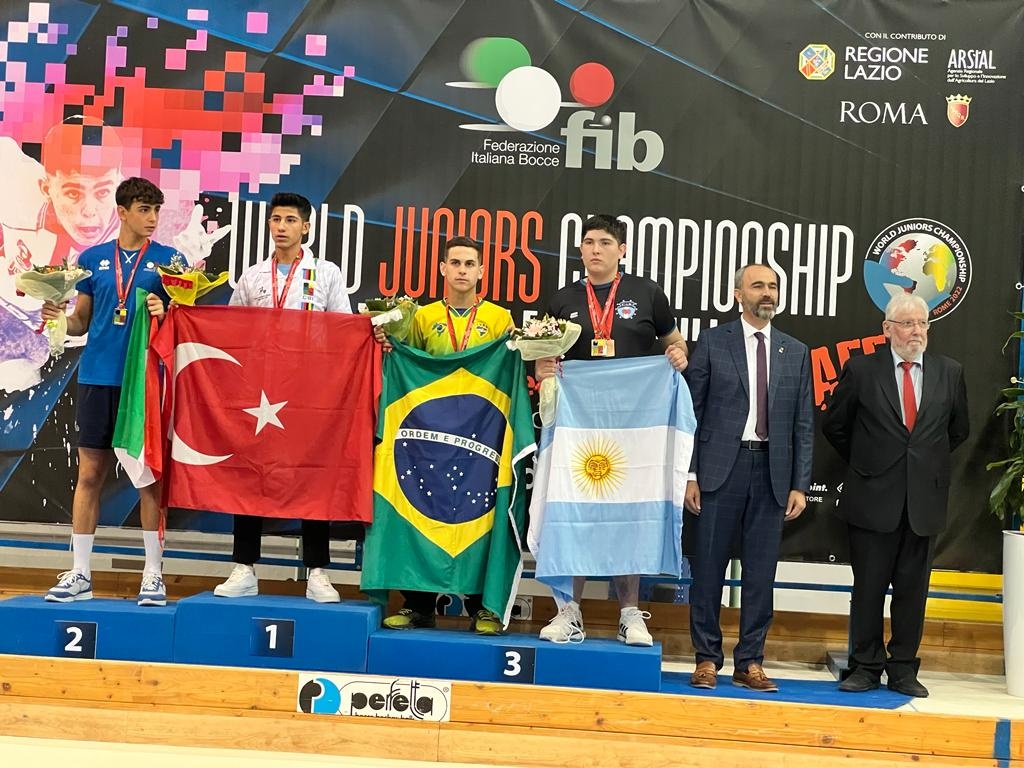 World Juniors share titles
World Juniors Bocce Championship was held in Rome from the 20th to the 24th of September 2022. 
After a long break due to the covid19 break, the juniors arriving from various destinations of the world enjoyed competing in the technical bocce center of Rome. The organization was a big success and players did their best to reach the result. Only the best 20 teams in each discipline qualified from the continents had a chance to show up in the championship.  
The event was historical as it was the first time for boys and girls to compete together. Besides the mixed doubles and precision shooting titles for both girls and boys were awarded for the first time in a world championship. 
CBI President Dr Mutlu Turkmen, Vice President Moreno Rosati, head of the technical committee Dino Amado, CER President Bruno Casarini, FIB President Marco Guino de Sanctis, CONI Secretary General Carlo Mornati, President of Sport in Lazio region Roberto Tavani, and other officials presented the awards to the medallists of the 7 disciplines.
In single boys, Italian Nicolo Lambertini won the gold defeating Swiss Ryan Regazzoni. In single girls, Brazilian Taisa Zarpelon won the gold defeating Paraguay's Fernanda Luiza Schwingel. 

In double girls, Italian Trudu-Zurigo won the gold defeating Austrian Werth-Gleissner. And in double boys, Italian Alimenti-Martini won the gold defeating Argentinian Di Biasi-Suculino after a very tough game.  
The first mixed doubles champion title was won by Paraguay's Pletsch-Schwingel defeating Croatian couple Velic-Juginovic.

And the first precision shooting competitions finished with the victory of Turkish Mikayil Sen defeating Italian Tommaso Martini with a spectacular finish for boys and the victory of Croatian Ana Juginovic defeating Italian Martina Zurigo for the girls. 
After awarding the medals President Turkmen also delivered a closing speech and presented the gifts and certificates to all participant teams, competition directors and referees.   
The records approved in the first-world precision shooting competition are as follows; 
World/Pan-America Record Boys: Lucas Suculino - Argentina (34 pts)
World/Europe Record Girls: Simona Feherova - Slovakia (22 pts)
Europe Boys: Mikayil Şen - Türkiye (24 pts)
Asia-Oceania Boys: Muhamad Amine - Malaysia (15 pts)
Asia-Oceania Girls: Alia Somia Asmadi - Malaysia (8pts)
You may watch the whole championship via topbocce.live 
See the whole results below;

menssinglestotal.pdf


doublesmixedtotal.pdf


mensdoublestotal.pdf


precisionshootingmen.pdf


precisionshootingwomen.pdf


rankingnations.pdf


recordsprecisionshooting.pdf


womensdoublestotal.pdf


womenssinglestotal.pdf

AFFILIATIONS & INCLUSIONS