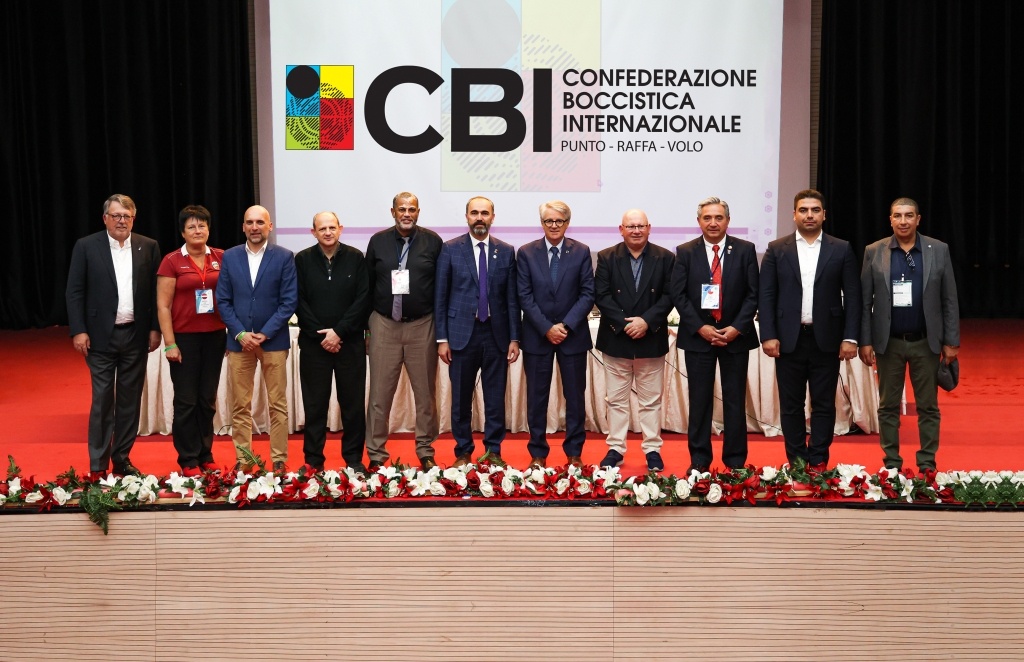 CBI General Assembly Held in Mersin
The Ordinary Elective General Assembly of CBI was held in Mersin during the World Bocce Championship on the 3rd of November.  
Fifty-one delegates representing 38 countries participated in the elective assembly held in the Culture Center of the Toroslar Municipality. Deputy President Moreno Rosati opened the assembly and passed the word to President Turkmen to chair the assembly. After thanking the delegates for their presence, Turkmen asked them to stand up for 1-minute silence for Alberto Limardo, Paola Pigni, and Bernard Champey, who passed away. Then the minutes of the agenda was approved and discussed in order.  
Ghana, Djibouti, Nigeria, Mauritania, Azerbaijan, Serbia, Portugal, Montenegro, Bosna Herzegovina, Slovenia, Hong Kong, Japan, Malaysia, and Nepal were approved as new members. 
The delegations approved the financial, technical, and executive committee reports unanimously. 
The assembly decided on three years for the new office, and the coming assembly should take place in 2025. The assembly also authorised the new committee to decide on the status of the members and membership fee scales. 
The newly elected committee is as follows;
President: Dr. Mutlu Türkmen (Turkiye)
First Vice President: Moreno Rosatti (Italy)
Vice President: M. Yassine Kafi (Algeria)
Secretary General: Antonio Biancacci (Australia)
Members elected in the first round:
Marcelo Fabian Bravo by the statute (Argentina), Natalia Lele (Latvia), Gian Luigi Giancecchi (San Marino), Pablo Juan Munoz Palma (Chile), Denis Persic (Croatia).
Members elected in the second round: M. Amine Maidi (Algeria),  Gabor Foti (Hungary), Jasem Manouchehri (Iran), and Fabio Oetterli (Switzerland).
The new auditor committee proposal was approved unanimously and composed of S. Eren Öztürk (Turkiye), Sonia Fava (Australia), Bruno Casarini (Italy), Masoumeh Manouchehri (Iran), and Hassiba Hamel (Algeria).
The new Statute proposal was approved unanimously, and EC was authorised to format the final version. 
Former CBI Vice President Mr Renato Bullani was opposed as an honorary member by the EC and approved unanimously. 
CBI's legal representation as a founder of FMBP was approved unanimously. 
For the future calendar, Algeria is accepted to host the 2023 World Juniors, and for 2024, 2025, and 2026, Iran, Italy and Turkiye are potential candidates. EC was authorised to discuss and decide on the hosts for the following years.  
EC will establish an athlete's commission.
Danny Passaglia (USA) was approved as the President's Advisor with consultary representation on the board. 
Following the assembly, the newly elected EC members had the first EC meeting in Mersin Doramar Hotel. The EC appointed Mr Claudio Knecht (Switzerland) as the new general manager. 
AFFILIATIONS & INCLUSIONS